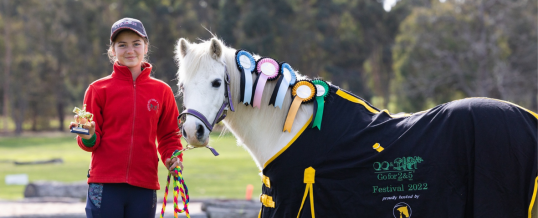 PONY CLUB WA FESTIVAL 2022
Sunday 5th June 2022 saw over 100 Pony Club WA riders join together for our annual encouragement Festival. Members from as North as South Midlands Pony Club and as South as Wellington District Pony Club travelled to Horsemen's Pony Club to compete in Showjumping, Dressage, Novelties, Showman and Fancy Dress.
Thank you to our amazing Judges, Chief Scorer, Ground Jury and Chief Gear Checker for donating your time and to our First Aid Crew from Medic Aid.
A huge congratulations to our members who took home the High Point Awards and those who gained a rosette or two.
This day full of variety, really provided a fun filled event for all ages and abilities and saw true team spirit and camaraderie between members helping and encouraging one another.
Thank you to Horsemen's Pony Club for supplying a fantastic ground and to all of our volunteers who lent a hand either on the day or in the lead up to this event. Without your support our event could not run and for this we are very grateful!
Big congratulations also to Jessica Duggin (Wallangarra RPC), Cate Neal (Horsemen's PC) and Shannon Meakins (Orange Grove HPC) for winning our Pony Club WA Colouring Competition! We received an abundance of entries which made it very hard to pick just 3 winners.

A massive thank you to our event sponsors and supporters Healthway, Off the Track, The Races WA, Anitone and The Happy Snack Company for their generosity.
EVENT SURVEY
Did you attend the Pony Club WA Festival 2022? or was their a reason you didn't?
Pony Club WA is seeking your event feedback! Please spare 2 minutes to provide your feedback.
www.ponyclubwa.asn.au/state-event-survey/
Survey closes Friday 17 June 2022, 9pm