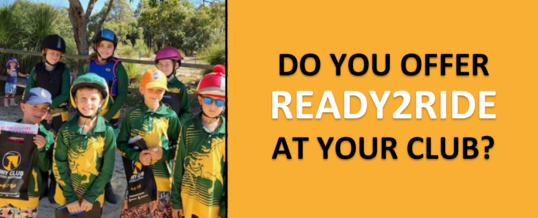 The 2023 season has kickstarted at pony clubs across Western Australia with first rallies and events pumping.
Pony Club WA are excited to see clubs continue to offer the Ready2Ride Program and would like to welcome our NEW Clubs who have signed up to offer this initiative after the success this membership program achieved in obtaining additional members and engagement with their communities in 2022.
Welcome on board:
Darling Range Horse and Pony Club
Horsemen's Pony Club
Katanning and Districts Pony Club
Horsemen's Pony Club started their season with their very first Ready2Ride lesson during their February rally. Chief Coach, Nicole Speed couldn't believe just how easy, informative, and perfect it is for their members under the age of 10 years old. With a choice of over 30 lesson plans in the startup folder this half day program retains the attention of our younger members and what is not to love about each members receiving their Ready2Ride Activity Packs which are full of colouring/puzzle booklets, Europa Saddlery brushes, Healthway high bounce balls and much more.
Although this is a shorter program members can aim to achieve their very first Pony Club Proficiency Certificate once they reach competency. The 'E' Proficiency Certificate helps to educate the basics of horse mastership including The Riders Tool Kit, On the ground, Under Saddle and Horse Management and Care.
This is a great tool for ongoing education with Pony Club.
If your club does not offer this fun program and would like to find out the easy steps to sign up and offer a better value membership category for new members under 10 years old, please contact the Pony Club WA Development Officer on (08) 9296 1500 or visit https://www.ponyclubwa.asn.au/ready2ride/.