The Pony Club is an internationally recognised, voluntary youth association dedicated to providing opportunities for young people that are interested in horses, ponies and riding. Now the largest association of riders in the world Pony Club originated in the United Kingdom in 1929 as a scheme to encourage young people to learn to ride.
Pony Clubs exist to promote the physical, mental and spiritual development of young people by encouraging sportsmanship and good citizenship and by providing opportunities for young riders to gain knowledge and become proficient in their chosen equestrian sport.
The movement in Western Australia was formed in 1959. There are currently more than 55 pony clubs affiliated with Pony Club WA which are divided into 12 Zones: Avon, Central, Eastern, Great Southern, Hills, Metropolitan, Northern, North West, South Eastern, South West, Swan and West Coastal.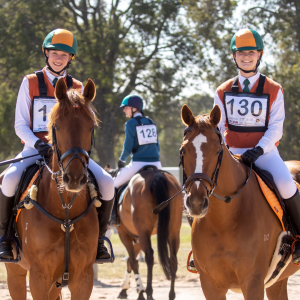 Pony Club provides an environment in which a young rider can develop knowledge and mutual friendship with other riders. The association encourages participation by providing all members with the opportunity to be involved in riding activities, regardless of their riding ability or the quality of their mounts.
All instruction is based on the Pony Club Australia Syllabus of Instruction and after completion and examination of the required standards, proficiency certificates are awarded.
While Working Rallies are considered the backbone of the Pony Club Movement other activities may include camps, trail rides, lectures and films, visits to places of interest, demonstrations and more.
To promote the highest ideals of sportsmanship, citizenship and loyalty and to create strength of character, self-sport, health and well-being in the young people that participate in our activities.
To work with our member clubs to provide instruction in riding and horsemanship and educate our members to look after and take proper care of animals.
To encourage young people to ride and participate in all kinds of sport connected with ponies, horses and riding.
To encourage young people to ride and to learn to enjoy all approved kinds of sport connected with horses and riding.
To provide instruction in riding and horsemastership and to instill in members the proper care of their animals.
To promote the highest ideals of fellowship, citizenship and loyalty, and to cultivate strength of character and self-discipline.
RALLY DAYS… are held each month. Riders receive instruction on riding disciplines such as flatwork, show jumping, active riding and also learn how to care for their horse or pony. These rallies are run by instructors and are the backbone of the movement.
OTHER ACTIVITIES… include gymkhanas, camps, trail rides, lectures and films, visits to places of interest and demonstrations.
COMPETITIONS… are held at club, zone, state, national and even international level. These are arranged as individual and team events. Team spirit and sportsmanship are encouraged in all aspects.