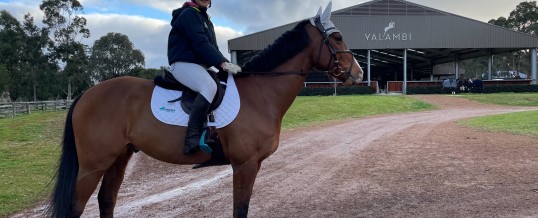 The Pony Club WA State Showjumping Squad held an intensive 2-day clinic at the Beautiful Yalambi Stud property in the South West on the 21st & 22nd of August.
This was a great opportunity to train in world-class facilities unaffected by the rain and arena surfaces. The parents were spoilt by a dry viewing deck complete with a full kitchen and the coffees and snacks were flowing.
The riders were part of a Q and A with Rory Hovell who answered all their questions in particular about how to get where they want to be in Showjumping, career prospects, breeding, and understanding the classes they enter. The questions were led by the riders.
The other group had a jump lesson with head coach Shaun Dillion where the riders were reminded of the importance of the canter to the jump.
After lunch, the group built a course of Showjump's and spent quite a bit of time learning why the lines and preparation to them are so important. Again it was an open Q and A led by the riders.
Small groups then came in and had the opportunity to ride the course while being coached through the process. This allowed them to prepare for the evening ride under lights where they got to nominate their heights and ride a competition-style round.
The rounds were videoed and then the riders sat with Rory in the morning and critiqued their rounds. This turned out to be a very valuable opportunity for the riders to see where to improve and also focus on what they did right.
Sunday morning had the group and most parents take part in a tour of the Stud. There were many questions and I know my daughter came home requesting a foal.
Gymnastic grid work with Shaun was next on the list with the riders focussed on their control. There were defiantly some tired riders after this session.
The riders can be complimented on the way they conducted themselves over the whole weekend, everyone was respectful and worked hard to achieve their goals.
Article by 
Rachel ODea