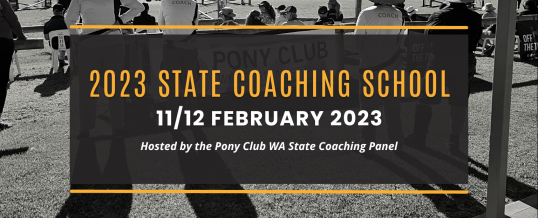 Hosted by the Pony Club WA State Coaching Panel, the 2023 State Coaching School is set to deliver engaging presentations, interactive sessions and live stream alternatives for Coaches and interested members of all levels.
*NEW* presentations and topics from leading equine presenters Adriana Della Franca, Dr Warwick Vale and Rebecca Thomas as well as live demonstrations!
Check out our event schedule and presenters here.
Reaccreditation points for PCANCAS Coaches are available by attending.
EVENT DETAILS
Saturday 11th & Sunday 12th February 2023
Karinya Equestrian Park
Orange Grove WA
https://www.ponyclubwa.asn.au/state-coaching-school/
$132 – Full Weekend
$107 – Saturday ONLY
$73 – Sunday ONLY
$80 – Live Sessions (4 Sessions on Saturday ONLY)
REGISTRATIONS
Registrations via JustGo: 
https://pca.justgo.com/Workbench.mvc/Show/6?ref=3DBDAECBF79F7E661AD477043B54014FC5D4FFF1&fbclid=IwAR0tTSN2EKH8ai9XBocYfAWKOgSFmo5An-Er2-zr0yoLhQ0VcVzmOPdjbyk
Should you not be able to access the list because you are a non member please contact development@ponyclubwa.asn.au
Can't wait to see you there!