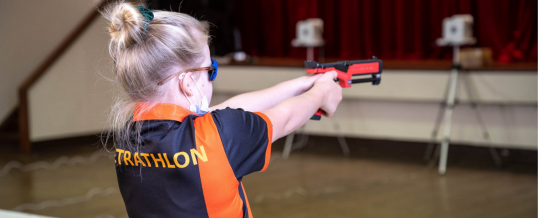 On the 9th and 10th of April, 46 pony club riders travelling from as far as Esperance competed at the 2022 Pony Club WA State Tetrathlon Championships held at Mortlock Pony Club in the small Wheatbelt town of Goomalling. The first state pony club championship event for the year proved to be another successful display of the dedication competitors have for the four-phase sport which include running, swimming, laser pistol shooting and horse riding. A variety of whole club teams, composite teams, non-championship, and open riders were ready to put all their summer training into action, in hopes of a positive outcome.
Saturday's phases started off with completing the tough run phase through bush track terrain on the pony club grounds; before heading to the Goomalling swimming pool to complete the swim phase. Although very cold, competitors didn't shy from pushing themselves to achieve quick times, adding more points to their running scores.
As the day continued, competitors then had to gain composure for the shooting phase, using laser pistols. The level of skill and determination of remaining calm under pressure can prove to be challenging, however, through the commitment of training, competitive scores were produced, adding to the run and swim phase totals.
Saturday concluded with riders carefully walking their Hickstead courses, followed by a delicious dinner and an entertaining quiz night. Taking the opportunity to step away from the seriousness of the State Tetrathlon Championships, and collaborate with other competitors in fun quiz activities, reminds everyone the reason we come together is because of this unique sport and the friendships created along with way.
Sunday arrived and it was time to ride! Courses ranging from 105cm to 45cm proved to be challenging for all. Course designers Noel Mustchin and Bethanie Moore utilized the cross-country grounds to build a very testing Hickstead courses, causing many final scores and placings to change.
As the final day concluded, competitors were then rewarded with many amazing prizes including rugs, saddle blankets, halters and rosettes; in recognition of their outstanding achievements stemmed from the months of hard work and training in order to create a competitive score. These prizes would not have been possible without the many generous sponsors and their donations in ensuring we could run the state championships with ease.
The time and dedication tetrathlon competitors put into the sport is astounding. Many have grueling training regimes to keep them fit as well as squad training camps, in hopes they can produce a result that could potentially take them to National and International championships in the future. Although a very competitive sport, we have all come together to enjoy something in common that involves both horse and rider athleticism, as well as the comraderies of teamwork and pony club fun!
Article by
Georgia Goss,
Pony Club WA State Tetrathlon Committee Member