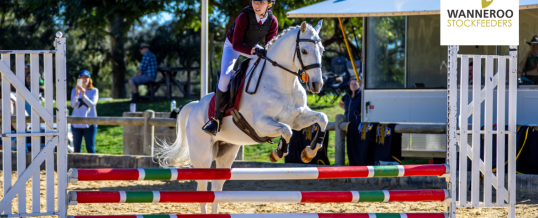 WANNEROO STOCKFEEDERS STATE SHOWJUMPING CHAMPIONSHIP 2022
Hosted by Pony Club WA State Showjumping Committee
The Wanneroo Stockfeeders State Showjumping Championship hosted by Pony Club WA and the Pony Club WA State Showjumping Committee was held over three days at the prestigious State Equestrian Centre in the middle of May. The event was blessed with perfect weather all but a couple of hours on the Sunday and we saw riders from all over the state come together to compete.
The event kickstarted with Fridays Anitone Welcome Stakes which provided nice warm up classes in the lead up to a weekend full of Jumping as well as providing a lot of fun for the competitors. Thank you to our ongoing sponsor Anitone for supporting these classes.
Saturday saw over 20 individual events with an addition 2 team events where we saw many beautifully turned out combinations of both riders and horses in the prestigious Brigid Woss Equitation and Team Challenge event. Huge congratulations to Capel Horse and Pony Club who won overall for this event. This was followed by the new addition 'Joy Through Participation' team event were we saw a total of 17 teams participate. It was pleasing to see an increased number of competitors across the day not only in the team events but the individuals.
After a long day the the horses had a well-earned rest while their riders and helpers rallied on for a night full of bingo, games and prizes. This delivered great entertainment for the Saturday evening and saw lots of riders leave in very happy spirits and refuel for a big day on Sunday.
Following a well needed rest riders joined us on Sunday for the Special Two Phases, Top Score, Jigsaw Pairs, Rescue Relay and the highly regarded Zone Team Events. 2022 saw a total of 20 Zone Teams compete across heights of 80cm, 90cm, 100cm and 110cm where Fred Freeman, provided a challenging course for the competitors. A highlight from Sunday was watching Hills Zone complete in the 100cm which was a team including Vanessa Davis, and sisters Kaitlin Goss and Georgia Goss. Kaitlin stated 'this is what I have been striving for and as this is my last year I can leave Pony Club on such a great note'.
Congratulations also to our Off the Track Highpoint place getters; 1st place to Madison Fawcett on Rampant Red, 2nd place to Summer Thorn on He's Smokin' and 3rd place to Emma Wiese on Valentino Man.
Special mention to our Course designers Fred Freeman, Ed Murphy and Scott Cusik who presented some colourful and encouraging courses across the weekend and our officials Tina Holmes (TD) and Dianne Ould (Chief Gear Checker).
The awarding of rugs for the individual classes with the class sponsor proudly displayed on them were a big hit with the competitors. This was the first time this championships have provided awards for individual classes as well as the teams and was received great feedback for this level of recognition. A massive thank you to all our wonderful sponsors who supported this event which allowed us this opportunity to give back to our hard working riders. Especially to returning Naming Rights sponsor Wanneroo Stockfeeders who proudly set up their trade stall over the weekend and offered a variety of discounts and competitions for our riders, families and spectators.
Overall a lovely event jam packed full of Showjumping competition and happy riders!
Article by
Stephen Jones
Pony Club WA State Showjumping Committee Member