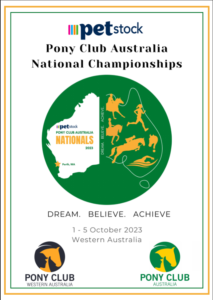 Applications have closed now and we have received 114 applications from WA riders for the Petstock Pony Club Australia National Championship from riders across the State.
Now it is full steam ahead for the various selection panels to go through applications for the final selection of teams.
Good luck to all the applicants.
A special newsletter from Pony Club Australia will be coming to all members each month over the next 3 months in the lead-up to the Nationals from the 2nd – 5th of October.
Have you joined the Petstock Pony Club Australia National Championships Facebook Page to keep up to date with what is happening???
Petstock Pony Club Australia Nationals Championships | Facebook
What is taking place around the Country:
NT: Freds Pass 26/27 August
SA: Danson Dressage Birdwood. 23rd &24th Sept 2023
Tas: 16-17 September. Faulkner Park Grammar Equestrian Centre, Invermay, Tasmania.
Vic and NSW: Joint Hub 25-27 Sept venue TBC
Qld: sending a team to WA
Games from a central hub located in Benalla, Vic 2-5 Oct