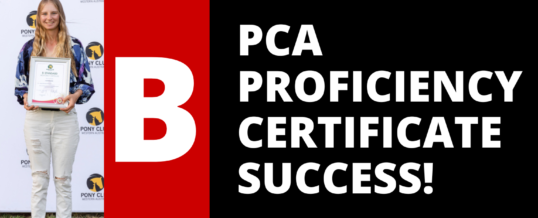 Pony Club in Australia has been teaching young people to ride and care for their horses since 1929.
One of the highest and prestigious achievements a rider can obtain is the PCA 'B' Proficiency Certificate.
In 2022 we saw Eastern Hill's, Lucinda Boulter work tirelessly to complete her qualification which was then recognised in a presentation at the Pony Club WA Annual Awards event and now as we enter the beginning of the 2023 season we acknowledge King Rivers, Caitlin Pritchard and Felicity Erricson obtain theirs.
The PCA B Proficiency Certificate is an internationally recognised high standard qualification. Riders who have the support of this achievement are recommend first for international opportunities such as Inter-Pacific Exchanges to represent their country as well as future overseas competitions and trips. Endless opportunity for Pony Club riders who can evidently demonstrate a high level of equestrian knowledge.
Pony Club WA touched base with recent recipient, Caitlin Pritchard, to give us an insight into her experience in the completion of her success. Here is Caitlin's trip down memory lane:
"It has taken around two years to achieve my B certificate. I was lucky enough to get to do it along side Felicity Ericsson, which made it so much fun to learn together, and travel together for clinics and workshops.
It has been such an incredible experience and we have had so much help and support from coaches, our club and especially our parents. There is no way we could have done it without their timeless hours and support they have put into helping us as well as driving us to Perth for extra support!
I have learnt so much and grown in my knowledge and skills as a rider. I look forward to be able to share all I have learnt with other members at pony club. We attended countless clinics and lessons with Phillipa Collier, who guided us throughout the whole process and oversaw our examination. We are so grateful for her support, without her guidance we would not have been able to achieve the certificate. We also attended the B clinics run by Pony Club WA, where we were taken through specifics such as lunging, horse mastership and ridden components.
We are the first ones to achieve our B certification for approximately 35 years in the Great Southern Zone, which is a massive achievement!
Felicity and I hope that more up and coming riders from rural clubs can also get the chance achieve the higher-level certificates as this has been such an amazing journey, and we couldn't of done it without everyone's support!"
If you or a member of your club is looking to start the process of obtaining the PCA B Proficiency Certificate and are unsure on how to deliver this to your riders, please contact our Pony Club WA Development Officer via development@ponyclubwa.asn.au or on (08) 9296 1500.
You can also find further information on all PCA Proficiency Certificates here: https://www.ponyclubwa.asn.au/proficiency-certificates/
Pony Club WA looks forward to acknowledging the achievements of both Caitlin and Felicity at the season finale's Annual Awards as well as the hopeful success of any new candidates who aim to obtain their B Proficiency Certificates in 2023.
Congratulations once again to our high achievers!