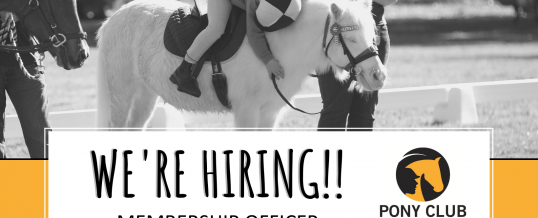 𝘞𝘦'𝘳𝘦 𝘏𝘪𝘳𝘪𝘯𝘨!!
Do you have a background in administration or seeking flexible work hours?
We have just the job for you!
Pony Club WA is seeking an enthusiastic, friendly and dedicated individual to join our small team in the role of Membership Officer.
MEMBERSHIP OFFICER
Position: Full Time
Location: Brigadoon WA
Award: Sporting Organisations Award 2020, Clerical and Administrative Grade 3
Pony Club WA offers a friendly and flexible work environment with opportunities for further training, and we are based at the State Equestrian Centre at Brigadoon.
To apply please email ceo@ponyclubwa.asn.au.
Applicants must include a cover letter outlining why they would be a 'good fit' for the position advertised (in word format) and a resume.
Further information is available by contacting our CEO, Rick Gill on 9296 1500.
Applications will close at 5pm Friday 16 July, however the selection process will begin immediately and may be filled prior to closing for the right candidate. If you intend to apply please do so as soon as possible.
This position is full time (37.5) hours per week and will require occasional weekend or evening work.
The Membership Officer is primarily responsible for:
• Maintain, and assist clubs and members in the use of, our online membership platform MyPonyClub.
• Manage incident and accident reports and maintain Excel spreadsheet.
• Assist clubs with compliance with governance, government legislation, child safety and Pony Club WA and Pony Club Australia rules
• Maintain, manage, and promote the Leaderboard program.
• Maintain relevant parts of the website.
• Fulfil book and merchandise orders.
• Administration of certificates through MyPonyClub, produce certificates and post.
• First point of contact via phone and general email, and general assistance for members.
• Assist with Pony Club WA office functions such as Awards Night, AGM, and events as needed.
• Produce statistics reports.
• Manage mail.
• Other duties as reasonably requested.
SKILLS AND EXPERIENCE REQUIRED
Essential
• Creative and innovative team player with a 'can do' attitude.
• Outstanding communication skills, both written and verbal.
• Self-starter, high level of initiative, and can multi-task
• Commitment to customer service (internal and external).
• Highly detail oriented with strong organisational, compliance and time management skills.
• Calm individual who can operate under pressure, deadlines, and the demands of a busy office environment.
• High level of proficiency in Microsoft Office Suite applications including Word, Excel, Outlook, PowerPoint.
• Driver's licence and own vehicle.
Desirable
• Experience within the Pony Club WA club system and an understanding of equestrian sport.
• Experience with and understanding of working with volunteer committees.
• Working knowledge of other software such as Xero accounting, website maintenance, or membership platforms
For further information please download our Job Description below:
Pony Club WA Membership Officer – Position Description
Pony Club WA Membership Officer – Application Overview