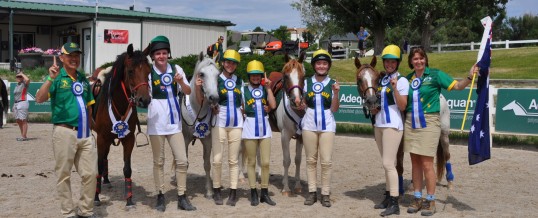 INTERNATIONAL MOUNTED GAMES EXCHANGE 2019
Written by Skye McMullen
South Midlands Pony Club
In December 2019 I received the most exciting news, I was selected to represent Australia at the International Mounted Games Exchange in Denver Colorado. My wish to ride internationally and represent my country was going to come true.
On July the 22nd I hopped on a plane and headed to Melbourne Victoria for a three-day training camp where I met the team Coach, Tim Ling (Vic), Manager Karen Pearce (Tas) and my fellow team members, Caitlin Seini (Vic), Asha Lamprey (Tas), Aaron Newham (NSW), Tiarni Kenderdine (QLD). We stayed at Kangaroo Pony Club grounds, practiced on borrowed ponies and had lots of fun playing lots of Uno and a little sightseeing of Melbourne. We also went to Crown and watched the new Lion King movie.
On the 25th of July we headed to the airport to start our journey to the United States of America, with a 15-hour flight and lots of movies we arrived in Los Angeles airport, then a couple hours later flying out again to Denver, Colorado. When we landed, we headed to bag check and meet the Great Britain team. We then drove to Denver University our first accommodation and meet the Canadian and US teams. The first three days we stayed at the university getting to know each other, watch the local American football team the Broncos train, attend a clay and anatomy class, visited a museum and much more.
Our next stop was the YMCA in the Rocky Mountains which was my favourite place with the amazing views and fun activities we stayed there for 5 days, played a volleyball tournament against the other teams with Australia winning, played kickball, swam in the pool, hiked to beautiful places and enjoyed a 2hr trail ride through the Rocky Mountain National Park. We had a quiz night in which team Australia won as well. The night before we left, we went on a carriage ride and stopped to roast some marshmallows by a toasty warm fire, Americans call them Smores, they place the roasted marshmallows and chocolate in between biscuits.
Continue reading Skye's journey here…