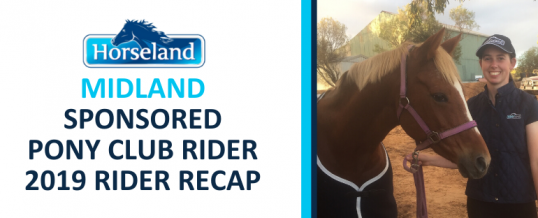 Vanessa Davis
I would like to thank everyone at Horseland Midland for all their incredible support they have given to me throughout 2019 and it is incredibly hard to put into words what this sponsorship has meant to me. This sponsorship has meant so much to me as it has truly opened up my eyes to a whole different perspective on our sport. It's quite incredible how much more people recognise you once you become sponsored. I used to be the little quite achiever working away in the background and now it's like I'm in the spotlight. I must say that has meant a lot to me as I feel as if all my hard work and dedication that I have put into my horses over the years has finally payed off.
However, there is so much more to it than that, this sponsorship has also enabled me to become a better rider and to be a real role model to the younger generation coming up through pony club. All I have ever wanted to do in Pony club is to help and encourage the younger riders to have a go and take every opportunity that is out there because there is so much up for offer. This sponsorship has helped me achieve my goal for 2019 which was to compete internationally once again and to get all my horse out and about even more than what I did in 2018. It was so nice to be able to share my success with Horseland after winning the Tri Nations cup and knowing that they were there the whole time supporting me throughout my journey.
Have you submitted your Horseland Sponsored Pony Club Rider application?
All applications need to be submitted before Sunday 16th February 2020.
Please note the winners of the Horseland WA Sponsored Pony Club Rider will be announced at the Horseland Autumn/Winter Launch (March 2020)
For further information please contact Pony Club WA at marketing@ponyclubwa.asn.au