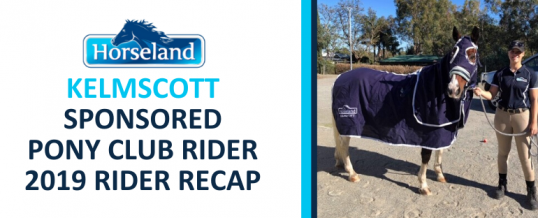 Ashliegh McNamee
In 2019 I was honoured with the opportunity to represent Horseland Kelmscott as their Pony Club Sponsored Rider and what a year it was! Through the support of this store and their fantastic program I was able to achieve so many riding goals. The most notable of these was being selected for the WA State Mounted Games Team and travelling with my pony to Sydney to compete at the 2019 PCA Nationals where our team placed 2nd. It was an incredible experience and a goal I am so grateful to have achieved.

Have you submitted your Horseland Sponsored Pony Club Rider application?
All applications need to be submitted before Sunday 16th February 2020.
Please note the winners of the Horseland WA Sponsored Pony Club Rider will be announced at the Horseland Autumn/Winter Launch (March 2020)
For further information please contact Pony Club WA at marketing@ponyclubwa.asn.au