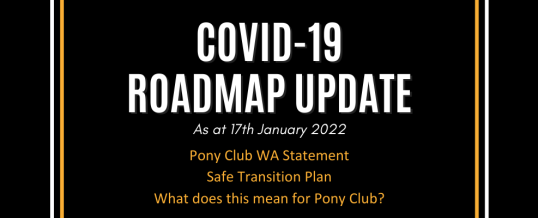 Covid-19 Update as of Monday 17th January 2022
Dear Members,
PONY CLUB WA STATEMENT
Pony club WA has at is core the safety and wellbeing of its members, staff, volunteers and the wider community. Our commitment in meeting our responsibilities is to adhere to the directions of State Government health policy in place from time-to-time and to provide information so that our members can continue to enjoy Pony Club safely. We encourage all of our members to fully vaccinate including 3rd dose or boosters for their own benefit and that of the community unless exempt.
SAFE TRANSITION PLAN
The State Government has announced its Safe Transition Plan and that Western Australia will open borders from 12.01 am on Saturday 5th February 2022.
Leading up to February 5th the state government further announced a change to rules around transition.
WHAT DOES THIS MEAN FOR PONY CLUB?
All clubs need to register with SafeWA and provide a QR code for visitors to check in, and a manual contact register to record visitor details.
The situation is very fluid, and while the advice is current as of 17th January is subject to change at short notice. Please refer regularly to the WA government Covid-19 information page and social media sites.
As of 17th January until further notice:
Mask wearing is mandatory in all public indoor spaces in the Perth metropolitan and Peel regions. this includes all indoor spaces at Pony Club grounds. This may change in the coming days or weeks.
From January 31st and February 5th:
An expansion of proof of vaccination requirements will be in place in Western Australia. However, Pony Club as a community sport is exempt from proof of vaccination.
At all times promote social distancing and undertake good hygiene practices.
Thank you to all of our clubs and members for your commitment to keeping WA safe, should you have further questions please contact the Pony Club WA office on 9296 1500.
Your sincerely,
Rick Gill
Pony Club WA Chief Executive Officer
ceo@ponyclubwa.asn.au
COVID-19 Roadmap Bulletin – 17.01.2022