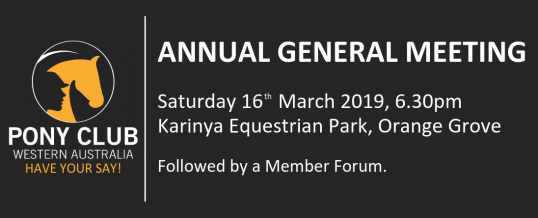 PONY CLUB WA AGM
Call for Submission of Notices of Motion
The Pony Club Western Australia Incorporated (Pony Club WA) Annual General Meeting of the Association will be held at Karinya Equestrian Park, Orange Grove at 6.30 pm on Saturday 16th March 2019.
The AGM will be followed by a Member Forum.
Notices of Motion
Pony Club WA is now calling for submissions of Notices of Motions in accordance with Clause 10.3 of the constitution.
Notices of Motion must:
be submitted on the attached form;
signed by 2 representatives, the President and Secretary from a Member Club;
delivered to the Association by 5pm, Wed 13th February 2019
Notices of Motion Submission Form 2019