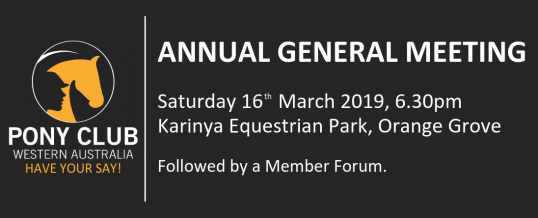 PONY CLUB WA AGM
Call for Elected Director Nominations…
The Pony Club Western Australia Incorporated (Pony Club WA) Annual General Meeting of the Association will be held at Karinya Equestrian Park, Orange Grove at 6.30 pm on Saturday 16th March 2019.
The AGM will be followed by a Member Forum.
The Election of Directors
Pony Club WA is now calling for nominations for the position of elected director in accordance with Clause 15.2 (a) of the constitution.
Three Director Terms will be expiring along with one existing vacancy leaving four (4) vacancies.
Please see letter from below the Board of Pony Club WA inviting eligible members to nominate.
The Board Nomination Pack provides information about the position and the forms required to progress a nomination application.
Nominations and associated paperwork must be delivered to the Association by 5pm, Wednesday 13th February 2019
Board Nomination Pack – Download
Editable Nominee Statement – Word Document