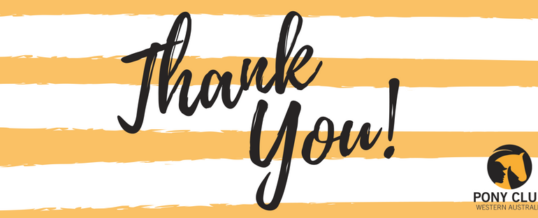 STATE EVENTING CHAMPIONSHIPS 2018 – THANK YOU!
What an incredible weekend at the Pony Club WA State Eventing Championships 2018
A big thank you to the State Eventing Committee for hosting/organising such a fantastic event.
Thank you to our Association Sponsors Department of Local Government, Sport and Cultural Industries, South West, Healthway, Careers in Racing WA, Milne Feeds, Gallagher Animal Management Australia, Horseland.
Also thank you to our event sponsors SKG Radiology, Capel Fresh IGA, Capelberry Cafe, Beyond Dreamz, Emma Mulvay_Bra Fit Specialist, Budget Stockfeeds, Gidge Rural, Serpentine Horse and Pony Club, Horseland Bunbury, Realign Equine, Up2Date Books, J&S Pateman, Emalin Equestrian, Wallangarra Riding & Pony Club, The Happy Snack Company, Hamag and Anitone.
Without your support, fantastic events like these wouldn't be the same.
Lastly, from all the riders that took part to helper duties to assistants and to all who attended we would like to say thank you!