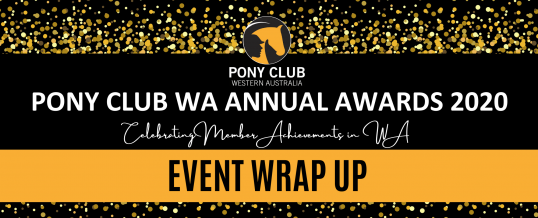 Well what a fantastic 2020 Pony Club WA Annual Awards Events!
A massive congratulations to all members, coaches, volunteers and representatives that walked away with an award or the achievement of being nominated.
We saw over 250+ members attend this event, so what a great opportunity to share 2020's achievements with you all.
Thank you to Horseland, Off the Track, Healthway, WASCA, Wanneroo Trophy Shop and Events , Mulberry Estate and Rebecca De Vries Photography for your support.
CONGRATULATIONS TO THIS YEARS WINNERS/RECIPENTS:
Pony Club WA Series of the Year
Winner – Serpentine Horse and Pony Club Showjumping Series
Pony Club WA Event of the Year
Winner – Swan Valley Horse and Pony Club Combined Hunter Trials and Tetrathlon
Pony Club Grass Roots Coach of the Year
Winner – Rowena Bathgate
Pony Club WA Coach of the Year
Winner – Dan Foster
Pony Club WA Best Achievement by Rider 12yrs and Under
Winner – Krystina Bercene
Highly Commended – Demi Perkins

Pony Club WA Best Achievement by Rider 13 – 16yrs
Winner – Jorja Wareham
Highly Commended – Bella Macri
Pony Club WA Associate Member of the Year
Winner – Amy-Louise Ross
Highly Commended – Georgia Shipp
Pony Club WA Volunteer of the Year
Winner – Nick Wells
Pony Club WA Club of the Year
Winner – Dryandra Pony Club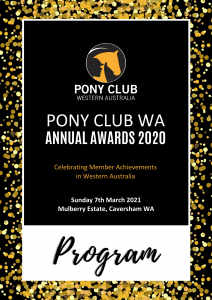 EVENT PHOTOGRAPHY
Should you wish to check out our amazing photos from the event please visit:
https://rebeccadevriesphotography1.shootproof.com/gallery/pcawaawards/
Download code: 2021pcawa
EVENT PROGRAM
This programs includes placings and award receivers: