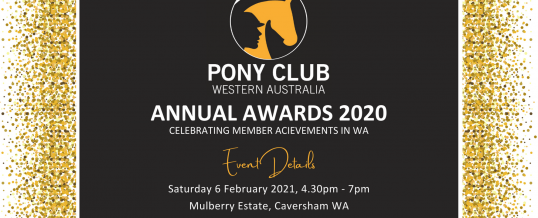 Pony Club WA clubs, coaches, volunteers and members are the backbone of the pony club movement in WA.
Help us celebrate their 2020 achievements by nominating someone for the 2020 Pony club WA Annual Awards.
EVENT DETAILS
Join us for a night of celebration and support your fellow Pony Clubbers!
Saturday 6th February 2021
4.30pm – 7pm
Mulberry Estate, Caversham WA
TICKET SALES
$10pp – 14yrs and under
$15pp – 14yrs+
Purchase your tickets here:
https://www.ponyclubwa.asn.au/product-category/annual-awards-tickets/
AWARD INFORMATION
Continue Reading →
26
JAN
2021