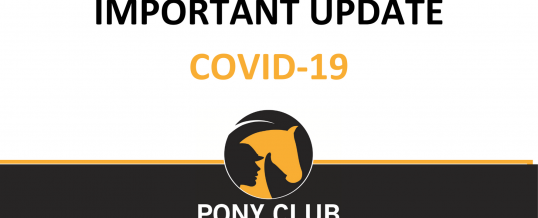 MESSAGE FROM PONY CLUB WA
Pony Club WA has the health and welfare of our members and the wider community as our priority at all times.
We are currently assessing the impact on Pony Club activities and events with the 5 Day lockdown announced by the State Government beginning on Sunday 31st January 2021 and ending Friday 5th February 2021 at 6pm.
As soon as we have further information on further restrictions (if any), we will provide an update.
This includes our Pony Club WA Annual Awards Evening this Saturday (06.02.2021) and the upcoming Pony Club WA State Coaching School (13.02.2021 – 14.02.2021).
Please continue to follow government Covid-19 directions and stay safe.
Should you wish to get in contact with the office, please continue to do so via email:
Amber: Reception@ponyclubwa.asn.au    |     Membership@ponyclubwa.asn.au
Sally: Development@ponyclubwa.asn.au
Tanya: Sports@ponyclubwa.asn.au
Madi: Marketing@ponyclubwa.asn.au
Rick: Ceo@ponyclubwa.asn.au