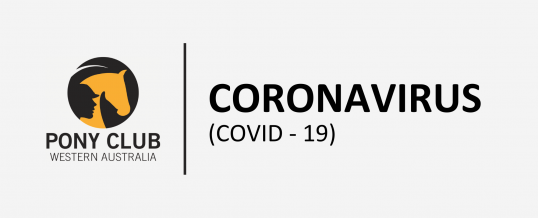 PONY CLUB WA UPDATE TO MEMBERS AS OF 26TH MARCH
It is with sadness that I inform members of Pony Club WA that all face to face pony club activities are to cease as of Thursday 26th March until further notice.
While we are all feeling frightened for our health, well-being and financial security, we are luckier than some that our sport is our lifestyle and we can still enjoy our horses at home.
Please rest assured that the 24/7 personal accident and public liability insurance component of your membership is in place for non-income earning equestrian activities.
I am recommending that we all just take a pause over the next week or so to breathe and gather our thoughts. The Office Staff, Board, State Committees, Zone and Club Committees as well as you, our members, are all juggling many balls as we all collectively worry about what the next few months will bring.
What I can assure you is that as soon as possible, I will be collaborating with committees and clubs to work together to provide innovative ways to keep our members engaged.
Our priority is not to leave anyone feeling cut adrift, we are the pony club family and we will stay connected!
On a brighter note – the State Tetrathlon Committee have locked in the 28th & 29th of November for the Tetrathlon Championships. This will be held at Dryandra Regional Equestrian Centre and will be a Hickstead style riding course.
The State Showjumping Committee are looking at different options to hold the Showjumping Championships later in the year so stay tuned!
Please rest assured that all State Committees will be looking at modifying qualifying criteria and time frames for all State Championships to take into account the interruption to activities. Details will be made available once Covid-19 restrictions are lifted.
If there was ever a time for our pony club community to pull together and show kindness and understanding – that time is now!
Stay safe, stay healthy and we look forward to life back to normal!