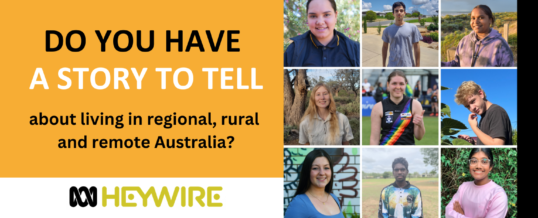 Aged between 16 – 22? Got a story to share? The ABC Heywire competition wants to hear from you.
Heywire is a lived experience storytelling competition for young people living in regional, rural and remote Australia.
For more than 20 years, we've been championing the bravery and vulnerability it takes to tell your story, your way.
The things that might seem every day to you are epic to us.
We've seen the impact sharing stories has on communities and the country; that's why we want to hear yours.
So tell us what life's like living in your part of the world; or tell us what you care about; or what you're frustrated by.
You can share your story in writing, by recording some audio, shooting video or taking some photos; as long as it's a true story about some aspect of your life living regionally.
Our competition closes on September 1 this year and until then, we're on the hunt for stories about your epic, everyday lives.
You could win a once in a lifetime chance to be heard on the issues that matter to you, a chance to work with ABC Producers and an all-expenses paid trip to the ABC Heywire Regional Youth Innovation Summit next year.
For more information and to enter now, here's the link: https://www.abc.net.au/heywire
What's in it for the young people?
This isn't a spelling or grammar competition – and we'd love to have some entries from your region, which historically hasn't been well represented in our Heywire competition. Heywire winners work with ABC producers to have their story heard across the country and they win an all expenses paid trip to the ABC Heywire Regional Youth Innovation Summit in Canberra next year. Entering the Heywire competition is a chance for young people to have their voices heard, and they can be supported to do that through an online Heywire workshop. The workshops are designed to support young people to settle on an idea about their life they would like to share… and gives them tips for how to enter that story in a way that suits them.