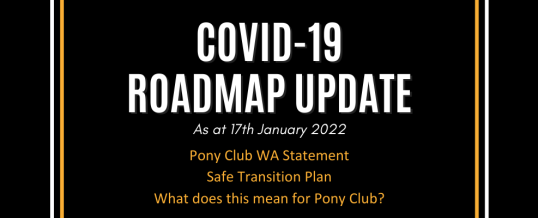 Covid-19 Update as of Monday 17th January 2022
Dear Members,
PONY CLUB WA STATEMENT
Pony club WA has at is core the safety and wellbeing of its members, staff, volunteers and the wider community. Our commitment in meeting our responsibilities is to adhere to the directions of State Government health policy in place from time-to-time and to provide information so that our members can continue to enjoy Pony Club safely. We encourage all of our members to fully vaccinate including 3rd dose ...
Continue Reading →